WELCOME!

MY NAME IS KAREN
I imagine you've dropped in because you'd like to develop a strong, flexible body that moves with ease.
Whether your goal is to play with your grandchildren more, ease the burden of travel on your body, work in the garden longer, train for your favorite sport, or simply have more energy, a tailored workout led by a training expert – and your biggest motivator! – will help you achieve it.
My number-one goal is to help you feel confident in your body – during workouts and every day of the year.
Through personalized training sessions and yoga classes, I can help you develop strength, control weight, reduce stress, and get confident and motivated.
People function best when they're strong and flexible. After years of maintaining my own personal fitness and guiding people to better health during thousands of individual sessions, I've found what I believe is the perfect way for you to feel powerful and centered:
WEIGHT TRAINING AND YOGA PROGRAMS

DESIGNED JUST FOR YOU!
Weight training and yoga naturally complement each other. The muscle and strength you build during weight training helps you hold yoga poses longer. The flexibility and core strength you gain from a yoga practice helps you stay grounded as you increase repetitions and lift heavier weights.
A balance between the two helps you progress in your training in a healthy way and improves your daily quality of life by preventing injury, improving balance, helping you perform daily tasks more easily, and reducing chronic pain.
I would love to find out more about your fitness goals and help you feel fantastic.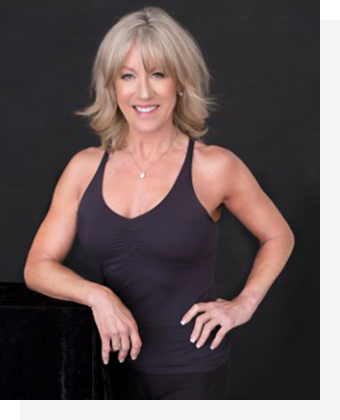 Certified Personal Trainer
Certified Yoga Instructor
Certified Nutrition Consultant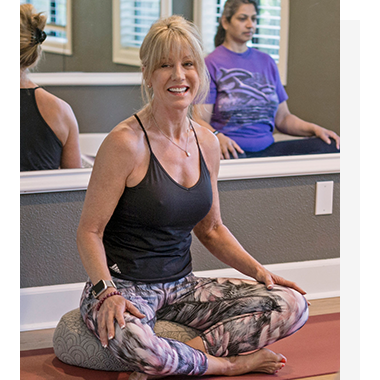 Today is the day!

I hope you'll join me!
Now that you know what I do, here's a little about me:
I'm Karen and my personal fitness journey started when I gained 65 pounds during my pregnancy with my first child. I was 21.
To lose the weight, I crash dieted and worked out to Jane Fonda videos every day in my living room.
It worked. Sort of. I looked thin, but underneath I had a high percentage of body fat and no muscle tone. When I picked up a copy of Muscle & Fitness Magazine for Her and saw what "pumping iron" could do for a woman's body, it changed my life.
As I lifted weights, my soft, flabby body transformed. Now I wasn't just thin but lean, with a strong, toned physique. And I was loaded with energy.
My depression lifted and I started to share my story of transformation with everyone who would listen. I had found, I soon realized, my life's passion.
Ever since then I've been helping others achieve the same success.
I earned my certification as a nutrition consultant in 2002 and became a certified personal trainer in 2003. After working in gyms, I opened my own training studio on Olympia's west side in 2007. In 2017, I earned a certification as a yoga instructor and started offering yoga sessions to my clients to enhance their strength training practice.
I'm still in the same studio today. The newly remodeled space has a fully equipped weight room, light-filled yoga studio, and dedicated dressing room.
My clients love the privacy of personal training, being free from a gym membership, and more intimate yoga classes.
Helping people become stronger versions of themselves is the joy of my life. I want to continue to do this work so as many people as possible can experience what it feels like to be fit and strong.